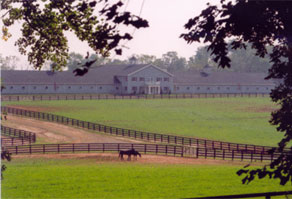 Perretti Farms was the largest horse farm in New Jersey specializing in the breeding and racing of standardbred horses for many years, and continues to be maintained to the same consistent standard.
Founded in the late 1980's, by noted automotive dealer and restauranteur William J Perretti, Perretti Farms is located on state road 526 in the heart of New Jersey's famed horse country in Cream Ridge. The farm now consists of some 650 acres of rolling hills and pastures on a pristine setting reminiscent of the world-renowned Bluegrass horse farms of Lexington, Kentucky.
Perretti Farms is setup as a full service nursery, with facilities for standing stallions and raising yearlings.

In 2012 with the standardbred breeding business in New Jersey suffering through tough times, Perretti Farms decided to diversify into Thoroughbred ownership, giving another racing game a chance. Led by the impressive 3 year old sprinter Forty Tales, Perretti Racing Stable owned thoroughbreds individually or in partnership, trained by Todd Pletcher and developed at Crupis New Castle Farm, Ocala Florida.
In addition, the farm has facilities for all equine activities including cross country and also lends itself to raising other animals and crops. In addition the farm has plentiful hunting, fishing, boating and other recreational opportunities.
Last Updated on Thursday, 21 March 2019 19:21